Olives Pomace Depitting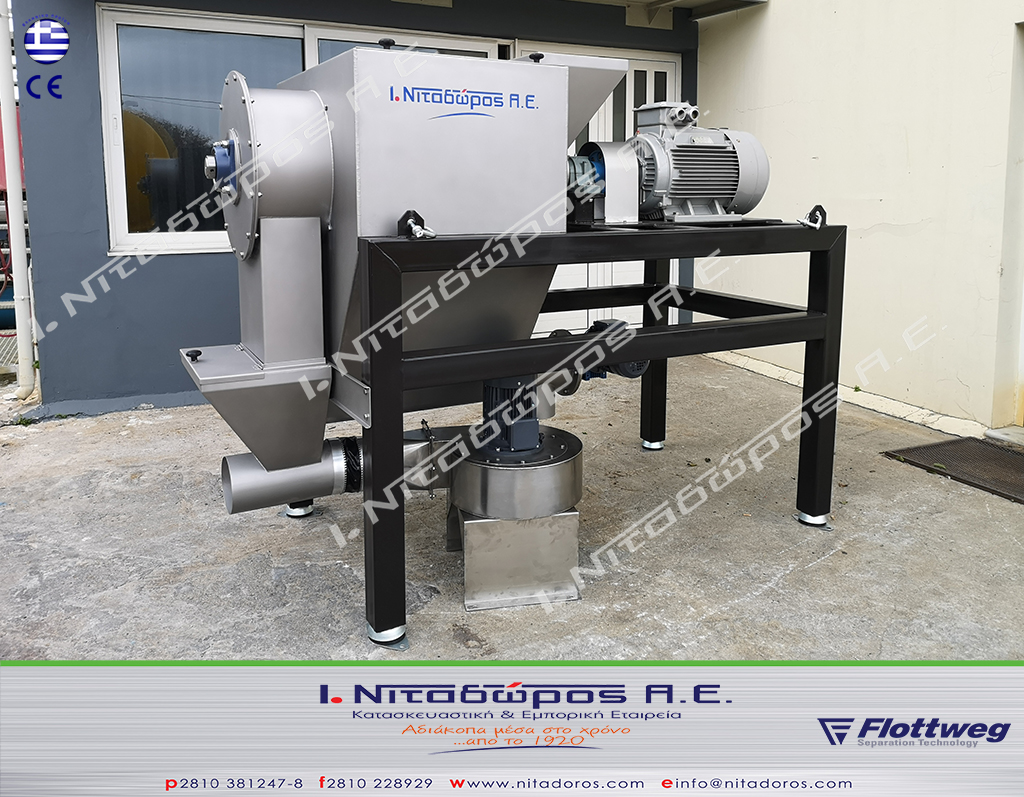 The Depitting Machine/Olive Kernel Separator, manufactured by "I.NITADOROS S.A." has been designed to efficiently separate the crushed olive kernel from olive pits/olive pomace which are produced during the olive oil extraction, both from 2-phase and 3-phase extraction process.
The design of our Depitting Machine aims to maximize separation efficiency, ease of installation and simple operation and user-friendliness.
The machine is characterized by its' high efficiency, robustness and low-cost maintenance.
The Depitting Machine is certified according to European Standards and is marked with the CE.
OPERATION
The olive pits (either from two-phase or three-phase system) enters the depitting machine – olive kernel separator and with the aid of both a perforated stainless sieve and a rotating stainless screw axis, separates the olive pomace into wood kernel and crumb-peel.
TECHNICAL CHARACTERISTICS
The capacity of the Depitting Machine/Kernel Separator amounts to 12 tones/hour for two-phase and 6 tones/hour for three-phase operation system.
The main part of the machine is placed on a base, consisted from steel beams, with vibration balancer flanges which are mounted to the supporting foot in order to enhance great robustness and smooth operation.
The interior of the depitting machine, which consists of the perforated stainless sieve and the screw axis, is manufactured from stainless steel AISI 304.
The rotating part of the machine rotates with the aid of SKF's bearings.
It is powered by a 40HP electrical motor of/according to European Standards, which is mounted on rectilinear layout, giving motion to the shaft with the aid of a flexible connector (coupler).
No special requirements are necessary for installation.
ADVANTAGES
With the use of the Depitting Machine - Kernel Separator is able to multiple revenue earned from the sale of crude (unprocessed) olive pomace.
The pure olive kernel is an excellent source of plant biomass fuel with high calorific value and with highly increasing demand. Its price is much lower not only than diesel oil but also than the rest biomass fuels.
By separating the kernel, the solid residues wastes of an olive oil factory are reduced up to 25%.
These advantages ensure the low payback period in combination with an excellent long term investment.